Imperial Series® Windows & Doors
Select Imperial Series to replace old vinyl or aluminum. Manufactured in vinyl these virtually maintenance free windows and doors are designed to add beauty and functionality to your project. Imperial's family of products features a slim profile and many standard hardware features that are attractive and durable.
At a Glance
Autolock
Integral Pull Rail
All Metal Window Rollers
3-1/4″ Retrofit Frame Depth
3/4″ Insulated Glass Unit
Practical Functionality.
Many Benefits.
Beveled, multi-chambered extruded vinyl
Excellent structural integrity and performance
All metal window rollers
All metal window rollers are durable and operate smoothly
Autolock Handle
One touch close and lock
1″ and 1-3/8″ Nail-on Fin Depth
Expanded selection of nail-on fin depths increase application compatibility
More Light.
Less Exposure.
3/4″ Insulated Glass Unit
Substantial glass package components provide superior performance
LoE3 Glass Package
Low ultraviolet and heat transmission through window
Argon Gas Filled Chambers
Argon gas reduces the amount of heat passage through the glass
Duralite Spacers
High performant warm edge seal technology with no metal
Window Hardware
Automatic locks for horizontal and hung windows close and lock with one simple click. All metal window rollers provide durable and long lasting operation. Integral pull rail makes opening the window easy.
One-touch close and lock
All metal window rollers
Integral pull rail for easy sash operation
Weep holes designed to prevent debris obstruction
Color Match Available for Standard Vinyl Colors

White

Almond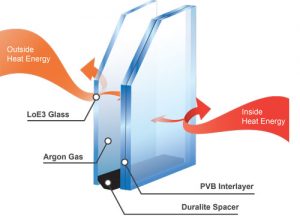 DuraPane laminated glass diagram
Glazing Options
Standard Dual Pane Glass
Dual pane glass comes standard in all series and features loE3 glass, argon gas filled chambers, and Duralite® spacers for excellent thermal performance and energy efficiency
High quality Cardinal® glass
Argon gas filled chamber
Duralite spacer with Warm Edge technology
Ergonomic Dual Point Locking Handle
Ergonomic patio door handle locks at two different points and is easy to operate
Heavy Duty Aluminum Rail System
Aluminum rail system provides durable support for door panels
1″ Insulated Glass Unit
Substantial glass package featuring Duralite warm edge spacer and other components to provide superior thermal performance
LoE3 Glass Package
Coated glass reduces ultraviolet and heat transmission through glass