Whether you're watching the sun rise in the morning or set in the evening, patio windows provide the perfect view of the landscape that sits just beyond your backyard. That's why finding the right patio sliding doors for your home is so important; you need to experience and connect with the vistas of your region. Whether you place your dining room table near these patio windows or have your favorite chair positioned so that you can enjoy the relaxing views, there's no question that patio sliding doors provide an escape while remaining within the comforts of your own home.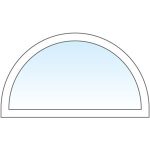 Arch windows have a single fixed non-venting opening and feature a curved or half-circle top portion
View More
Even Sight Lines
Even sight lines for a balanced look
Tilt-in Single & Double Hung Models
Tilt models allow for operating sash to tilt in for safe and easy cleaning from inside
Argon-filled Glass Chambers
Argon gas reduces the amount of heat passage through the overall glass package
Duralite Spacers
High performant warm edge seal technology with no metal
View More
Autolock Handle
Window closes and locks with a single motion
All Metal Window Rollers
Metal window rollers are durable and operate smoothly.
Argon-filled Glass Chambers
Argon gas reduces the amount of heat passage through the overall glass package
1″ and 1-3/8″ Nailing Fin Depth
Expanded selection of nail-on fin depths increase application compatibility