GS Series® Windows & Doors
GS is our most complete, top of the line product family. Built to deliver outstanding performance; engineered to host several glass packages including triple glazing and laminated glass options, this impressive window is proudly made in the USA. With many styles to choose from and features like even sight lines for a balanced look, outstanding strength and rigidity, virtually maintenance free extruded vinyl, these windows are manufactured to order and made to last.
STC Rated for Sound Reduction
Triple and Laminated Glass Options
Nylon Wheel Rollers
5-5/8″ Frame Depth
2014 ENERGY STAR® Most Efficient
Even Sight Lines
Inspired Views.
Superior Performance.
STC rated for low sound transmission
Keep outside noise levels low with Durapane laminated glass options
Laminated Glass option for impact resistance
DuraPane laminated glass resists shatter upon impact and has low sound transmission
Nylon rollers for lasting durability
Nylon composite window rollers are incorporated for durability and ease of operation
Steel & aluminum reinforced window sashes
Each window is reinforced internally with steel and aluminum inserts to ensure excellent structural integrity
More Light.
Less Exposure.
2014 ENERGY STAR Most Efficient in Class
Products in series meet energy saving qualifications to be named ENERGY STAR 2014 Most Efficient in Class
TriplePane & DuraPane Glass
Triple glass panes for excellent energy efficiency and sound reduction. Laminated glass option creates a barrier upon impact to protect against shattering
1″ Insulated Glass Unit
1″ insulated glass unit package featuring LoE3 glass and Duralite warm edge spacers for excellent thermal performance
Door Hardware
GS Series doors feature outstanding vinyl construction, nylon wheel rollers in galvanized steel housings, aluminum rail guide system for rollers, ergonomic dual point locking handles, and much more. Multiple folding doors feature premium European style hardware and a choice of metal finishes.
Ergonomic Dual Point Locking Handle
Heavy Duty Aluminum Rail System
Nylon Composite Wheel Rollers
Single motion deadbolt activation
Twin bolt lock on inactive panels
Architectural grade stainless steel components
Patio Sliding Door Handle Palette

French Door Handle Palette
French Door Sidelite Palette

Multiple Folding Door Handle Palette

Multiple Sliding Door Handle Palette

Ergonomic patio sliding door handle
Nylon wheel roller in galvanized steel housings
French swing door sidelite latches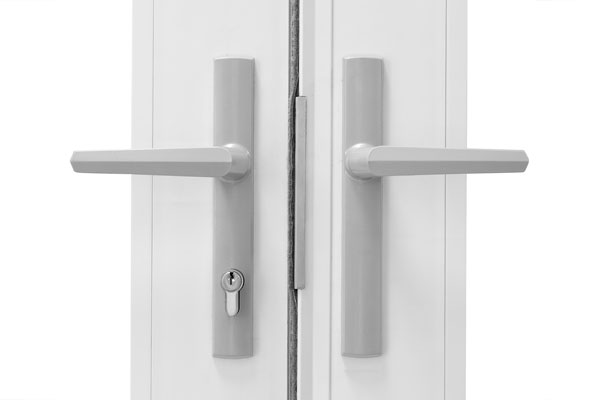 Satin chrome multiple folding door handles
Satin chrome twin bolt lock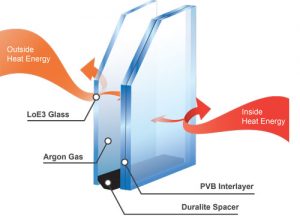 DuraPane laminated glass diagram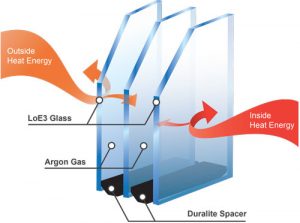 Glazing Options
GS Series windows and doors offer Dura- or TriplePane glazing options for excellent performance in energy efficience, sound reduction, and impact resistance.
DuraPane
DuraPane laminated glass is an innovative glazing system similar to automobile windshield glass, consisting of a plastic safety interlayer placed between two sheets of glass on one of the glass panes of the insulated glass unit.
DuraPane laminated glass has excellent sound reduction properties, making it a great choice for areas with high noise levels.
Impact resistant glass panels
STC ratings using DuraPane can reach levels up to 34-36 (Individual product ratings may vary due to window size and glass options)
TriplePane Glass
Our triple pane insulated glass unit consists of three layers of glass sealed with Duralite spacers. Inner glass chambers are filled with argon gas.
Along with better home insulation, a triple pane window is among the very best choices for an energy efficient home. Stop energy from escaping through inefficient windows, upgrade to new GS Series windows today!
2 LoE3 glass panes for maximum energy savings
2 inner chambers are filled with argon gas
Increased air space improves sound reduction efficacy
Patio door insulated glass units feature thicker glass
Award winning energy efficiency
2014 ENERGY STAR Most Efficient in Class
Tilt-in Single & Double Hung Models
Tilt models allow for operating sash to tilt in for safe and easy cleaning from inside
TriplePane & DuraPane Glass
For excellent energy efficiency and sound reduction.
Even Sight Lines
Even sight lines for a balanced look