French Swing Doors
Overview
Whether you're watching the sun rise in the morning or set in the evening, patio windows provide the perfect view of the landscape that sits just beyond your backyard. That's why finding the right patio sliding doors for your home is so important; you need to experience and connect with the vistas of your region. Whether you place your dining room table near these patio windows or have your favorite chair positioned so that you can enjoy the relaxing views, there's no question that patio sliding doors provide an escape while remaining within the comforts of your own home.
French swing doors feature 1 or more panels that swing outward or inward and from the left or right.
View More
Elegant and Functional Hardware Options
A variety of hardware finishes to match the room style
A Variety of Configurations to Suit your Space
GS Series doors are available in a wide selection of configurations from sliding patio to double french swing and more
Award Winning Energy Efficiency
2014 ENERGY STAR Most Efficient in Class
View More
Even Sight Lines
Even sight lines for a balanced look
Ergonomic Dual Point Locking Handle
Ergonomic patio door handle locks at two different points and is easy to operate
Argon-filled Glass Chambers
Argon gas reduces the amount of heat passage through the overall glass package
Duralite Spacers
High performant warm edge seal technology with no metal
View More
Low Maintenance
Aluminum frame material is exceptionally strong and corrosion resistant under a variety of weather conditions.
Strong & Lightweight Frame
Aluminum is a lightweight, but incredibly strong material, allowing for excellent structural integrity and narrow profile.
Reduced Carbon Footprint
Aluminum is sustainable as a highly recyclable material.
Even Sight Lines
Even sight lines produce a balanced look when viewing the window from inside or out.
French Swing Doors by Frame Material
Vinyl

Vinyl frames are energy efficient due to low heat transfer properties. In addition, vinyl material is also low maintenance and economical.
Aluminum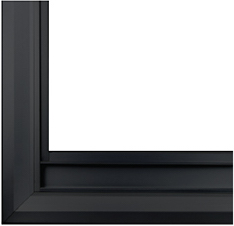 Thermally broken aluminum combines outstanding thermal performance and structural rigidity.